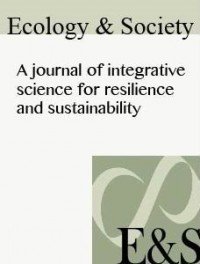 ISSN:
Journal Home
Ecology and Society
Q1
Unclaimed
The Resilience Alliance
Canada
Unfortunately this journal has not been claimed yet. For this reason, some information may be unavailable.
Content of the journal ranges from the applied to the theoretical. In general, papers should cover topics relating to the ecological, political, and social foundations for sustainable social-ecological systems. Specifically, the journal publishes articles that present research findings on the following issues: (a) the management, stewardship and sustainable use of ecological systems, resources and biological diversity at all levels, (b) the role natural systems play in social and political systems and conversely, the effect of social, economic and political institutions on ecological systems and services, It has an SJR impact factor of 1,188.

Ecology and Society focuses its scope in these topics and keywords: socialecological, systems, flood, urban, water, ecosystem, framework, change, modeling, system, ...
Type of Copyright: CC BY-NC
Open Access Policy: Open Access

Price
855 €
Inmediate OA
NPD
Embargoed OA
- €
Non OA
Metrics
1,188
SJR Impact factor
161
H Index
178
Total Docs (Last Year)
425
Total Docs (3 years)
14139
Total Refs
1909
Total Cites (3 years)
416
Citable Docs (3 years)
4.08
Cites/Doc (2 years)
79.43
Ref/Doc
FAQS