ISSN: 0304-3959
Journal Home
Journal Guideline
Lippincott Williams & Wilkins Ltd.
United States
Unfortunately this journal has not been claimed yet. For this reason, some information may be unavailable.
Pain is a journal indexed in SJR in Pharmacology and Neurology (clinical) with an H index of 238. It has an SJR impact factor of 2,766 and it has a best quartile of Q1. It is published in English.

Categories:
Anesthesiology and Pain Medicine (Q1)
Neurology (Q1)
Neurology (clinical) (Q1)
Pharmacology (Q1)
Price
- €
Gold OA
-
Green OA
- €
Non OA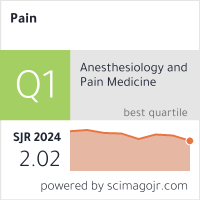 2,766
SJR Impact factor
238
H Index
265
Total Docs (Last Year)
1054
Total Docs (3 years)
6284
Total Refs
5108
Total Cites (3 years)
822
Citable Docs (3 years)
5,76
Cites/Doc (2 years)
23,71
Ref/Doc
Other journals with similar parameters