Philosophical Transactions of the Royal Society B: Biological Sciences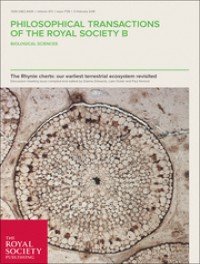 ISSN: 0962-8436
Journal Home
Philosophical Transactions of the Royal Society B: Biological Sciences
Q1
Unclaimed
The Royal Society
United Kingdom
Unfortunately this journal has not been claimed yet. For this reason, some information may be unavailable.
Continuing its long history of influential scientific publishing, Philosophical Transactions B publishes high quality theme issues on topics of current importance and general interest within the life sciences, guest-edited by leading authorities and comprising new research, reviews and opinions from prominent researchers. Each issue aims to create an original and authoritative synthesis, often bridging traditional disciplines, which showcases current developments and provides a foundation for fu It has an SJR impact factor of 2,084.

Philosophical Transactions of the Royal Society B: Biological Sciences focuses its scope in these topics and keywords: evidence, proteins, study, tropical, ecological, terrestrial, body, evolution, patterns, role, ...
Price
2040 €
Inmediate OA
NPD
Embargoed OA
- €
Non OA
Metrics
2,084
SJR Impact factor
305
H Index
394
Total Docs (Last Year)
1250
Total Docs (3 years)
32932
Total Refs
7609
Total Cites (3 years)
1240
Citable Docs (3 years)
5.81
Cites/Doc (2 years)
83.58
Ref/Doc
Best articles by citations
FAQS